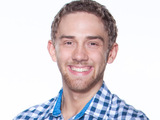 I recently chatted to
Emmerdale
star Marc Silcock about the soap's ongoing Jackson and Aaron storyline, which reaches an intermediary climax during next week's episodes.
For the majority of the interview,
click here
, but to hear what Marc had to say about
Hollyoaks
,
EastEnders
and Gavin Blyth's rejuvenation of
Emmerdale
, then read on for more!
The role of Jackson's so far removed from your Hollyoaks part as Eli - what's it been like playing someone who's real?
"At
Hollyoaks
, I had free reign to do what I wanted to do! Nobody could see or hear me apart from Newt! Finally getting the opportunity to play Jackson has been great because I finally get to work and speak with other characters!"
What do you think of Gavin's rejuvenation of Emmerdale?
"It's just been unbelievable. Going into meetings with Gavin, he's so focussed on the show. You just feel in such safe hands when you speak to him - there's no stone unturned. What he's done with
Emmerdale
in just over a year is amazing. I think it shows in the performances we're turning out what confidence we have in him."
You're slowly working your way around the country's soaps - which do you have your eye on next?
"I know Bryan Kirkwood's at EastEnders and I loved working for him at
Hollyoaks
, so we'll have to wait and see! That's if he'd hire me back! You need a bit of Northern down there, don't you?!"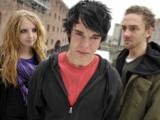 Were you planning on returning to Hollyoaks for Newt's exit story?
"No, there was no contact between me and
Hollyoaks
for Nico [Mirallegro]'s exit. I think the whole stunt with myself, Nico and Alice [Barlow] was my ending full stop. I don't think it helped with the change of producers but I would have been interested in going back… It's just one of those things."
What are your thoughts on the state of the show at the minute?
"It's been through a bit of a rocky patch. The shakeup that Paul Marquess is doing at the minute will take it one of two ways. It'll either go back to what it was in its heyday - back 18 months, two years ago - or it'll go in another direction. It's a bit upsetting to see a show that gave me my first big chance on screen in such a troubled spot. It happens sometimes, though."
SOURCE