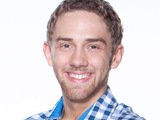 Emmerdale
actor Marc Silcock has revealed that the show's cast are already looking ahead to the 2011 British Soap Awards following their disappointing night at this year's ceremony.
The Yorkshire-based serial was
nominated
in every category at last month's event, but its only recognition in the final results went to long-serving writer Bill Lyons, who won the 'Special Achievement' prize.
Silcock - who plays Jackson Walsh on the programme - has now told
DS
that he and his co-stars are aiming to do better next year.
Asked whether his screen love interest Danny Miller (Aaron Livesy) deserved a prize, Silcock replied: "Don't even get me started on the Soap Awards! It's the way the voting goes, though. Danny apparently had the problem of coming second in a lot of categories. The stuff he filmed with Dominic Brunt was incredible.
"I do think it was wrong that he didn't get anything, but there's always next year. It's brought the whole cast together and it's made us all want to work that bit harder so we don't go through the same thing next year."
EastEnders
was the big winner at this year's event,
taking home
the 'Best Soap' gong and nine other prizes.
SOURCE