From Digital Spy:
Sunday, May 9 2010, 10:00 BST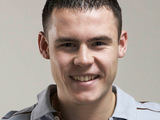 ITV
Emmerdale
star Danny Miller has said that viewers should not expect to see his character Aaron Livesy undergoing any dramatic
personality
changes over the coming months.
Aaron's current gay storyline will reach a climax next week as a court appearance sees him
speaking openly
about his sexuality in a bid to avoid a custodial sentence after being accused of a homophobic attack.
Despite Aaron reaching the turning point following weeks of self-doubt, Miller told DS that there will be no overnight solution to his other personal problems.
Speaking of Aaron's relationship with mum Chas (Lucy Pargeter), the actor explained: "Funnily enough, he does eventually start to soften towards her. It's about four or five weeks after the trial.
"We don't want it to happen too much, though, otherwise he'll be changing just because he's come out as gay. We don't want to change his character - he'll always be the same person he is, it just so happens he's gay. I think it's working really well."
Asked whether Aaron's love interest Jackson Walsh (Marc Silcock) will remain in the village, he replied: "I don't know. It would be too convenient for Aaron to settle down and be happy with the first guy he meets, though.
"It'd be too unlike Aaron to be all lovey dovey with someone and change the way he is. The key to Aaron's journey is that he'll be staying the way he is - bringing people close and pushing people away."