Via Kris Green at Digital Spy original link
here.
Danny Miller talks Aaron's trial in 'Emmerdale'
Friday, May 7 2010, 10:17 BST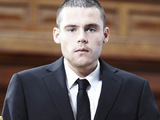 Emmerdale
's Aaron Livesy takes the stand next week as he appears in court for his apparent 'homophobic attack' on Jackson.
Realising that the only way to save himself is to come out in court and admit that he, too, is gay, Aaron's faced with the toughest decision he's ever had to make.
But what will he do?
I recently gave Danny a call between scenes to chat about the trial episodes, which air next week...
How does trial week start?
"At the beginning of the week, Aaron's starting to worry about the fact he could be going to prison. He realises that he has to admit that he's gay otherwise he'll be given a custodial sentence. The police and courts think that it's a homophobic attack, so Aaron coming out would prove that it wasn't. The idea of Aaron admitting that he's gay freaks him out too much, though. Paddy, Chas and Adam are all on at him throughout the week to be true to himself and save ensure he doesn't get sent down. It's a case of, 'will he admit it or not?'"
How does Adam try to help?
"Adam brings Jackson around in the hope that Aaron will apologise but he blows his chances as usual..."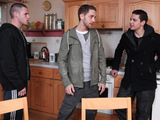 What happens in court?
"He's panicking like mad and he knows it's his last chance. But then he eventually plucks up the courage and forces himself to admit that he's gay in court. I didn't want to play it too stereotypical with big pauses - he just says it, as if he's finally accepting the words himself."
What was it like to hear Aaron saying those words you've wanted him to say for so long?
"We had to do a couple of shots beforehand, so the director told me to keep my performance until the actual take. But when I eventually said the words, it genuinely felt like it was a weight off my shoulders, too."
There have been a lot of scenes between Aaron and Chas recently - when will Aaron start being a little nicer to his mother?
"Funnily enough, he does eventually start to soften towards her. It's about four or five weeks after the trial. We don't want it to happen too much, though, otherwise he'll be changing just because he's come out as gay. We don't want to change his character - he'll always be the same person he is, it just so happens he's gay. I think it's working really well."
How come we've not seen Aaron and Victoria together? She was all over him and since he tried to kill himself, she's not been to visit...
"Victoria's basically creeped out by it all - it's got to the point whereby because she slept with him, she wonders if he's gay because of her. Instead of visiting him and talking about, she's avoiding him and the conversation."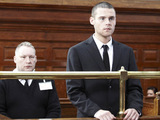 What happens beyond the trial? Will Aaron be pushed onto the back burner for a while?
"He won't be pushed aside, that's for sure. I'm filming scenes that will air around five weeks after the trial and I'm still hectically busy. Eventually, though, he will take a bit of a back seat as there are other storylines that need to be explored. Aaron does become involved in another big storyline, which is nice because it's great to be part of someone else's story."
Have you been watching the gay storyline in EastEnders?
"Yeah I have. Funnily enough, I was speaking to a taxi driver about it who picked me up from the village the other day. He's an Asian guy and he was telling me how much he's enjoying watching Aaron's journey because he's gay, too. It's a completely different storyline and it's great that
EastEnders
is exploring the religion issue, too."
Is Marc Silcock - who plays Jackson - sticking around?
"I don't know. It would be too convenient for Aaron to settle down and be happy with the first guy he meets, though. It'd be too unlike Aaron to be all lovey dovey with someone and change the way he is. The key to Aaron's journey is that he'll be staying the way he is - bringing people close and pushing people away."
How's life not smoking? You gave up recently, didn't you?
"I tried and failed miserably. Two days I lasted. On the first, I was adamant that smoking was the worst thing in the world. But by day two, Adam [Thomas] started smoking and that was it. So thanks for your support, Adam!"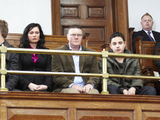 What do you think Emmerdale's chances are at this year's Soap Awards?
"I genuinely don't think that any other soap has improved as much as
Emmerdale
has this year. It'd be nice to get some acknowledgement for the hard work we've put in, so yeah, I think we have a good chance. And it's incredible that we've managed to get nominations in every single category - we're the only soap that has.
"Hopefully we will win something this year. Eventually, it'll become a bit boring
EastEnders
and
Coronation Street
winning all the time. It's almost like we're extras!"