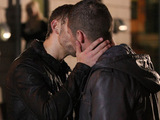 Emmerdale
producer Gavin Blyth has defended scenes showing gay characters kissing.
A recent storyline has seen Dales character Aaron Livesy (Danny Miller) deal with his sexuality and begin a relationship with Jackson Walsh (Marc Silcock). The pair have been seen
kissing
on screen twice.
During a webchat with viewers, Blyth was asked if the soap needed to show "intimate gay kissing scenes" as the questioner thought "an awful lot of young children may be watching now and others who consider this to be inappropriate".
Responding to the comment, Blyth said: "I think it's important that the Aaron/Jackson relationship is treated in very much the same way that we treat a relationship between any of our characters.
"I hope you weren't too offended. It's all about character and we have to be true to that."
The producer recently told
DS
that Aaron and Jackson will
feature
in another major storyline later this year.
Source